Payment, Shipping and FAQ's
Cyprus Stamps - Postage, Shipping, Returns and Privacy
SECURE PAYMENT INFORMATION

:

We accept DEBIT or CREDIT CARD PAYMENT directly through our secure and encrypted payment processor powered by Stripe and also PayPal.

For more information on the Payment Methods and our Delivery Policy (we only dispatch to your Billing Address), please visit the Order FAQs page.

INTERNATIONAL ORDERS do not include VAT, Duty or Taxes and as such you may be liable for these charges as your order enters your country.
Orders are sent by UK Postal service (Royal Mail) and we

always

try to dispatch items the next Business day (Monday - Friday only).

Postage / Shipping Costs are calculated based on the overall total of the items placed in your Shopping Basket and are calculated at the Checkout before you confirm your order. Please see the pricing table below: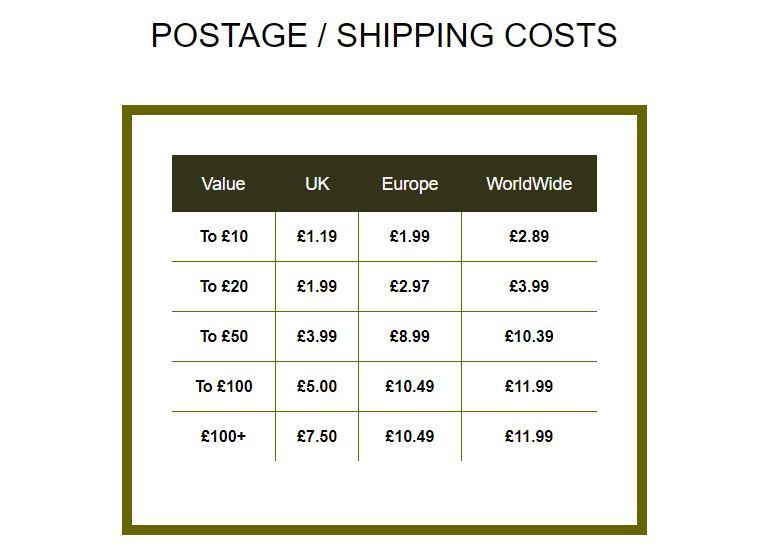 Items dispatched to

India, China

and Russia/Russian Federation only are subject to an additional charge for Registered Mail service on all items due to unreliable postal services in these areas.
YOUR SHOPPING BASKET



You can view the details of your Shopping Basket each time you add a new item.

Your basket recalculates the cost each time you add an item to your shopping list at Cyprus Stamps online shop.

Shipping or Postage costs are added towards the end of the payment process and are calculated by the total cost of the items in your Shopping Basket.

NOTE: the contact telephone number is mandatory when placing your order. However, we will only ever contact you by phone if there's a problem with your physical postal address that we cannot clarify by an alternative method/research.
If you have any problems or other questions not covered on this page, please Contact Us before placing your order.
DISPATCH TIMES
We generally recommend you allow 7 - 14 days for receipt of delivery within most of Europe. For Italy, Spain and all Worldwide destinations (particularly Australia, USA or Canada) please allow
14 - 28 days for your item/s to reach you
.
PLEASE always read the Out of Office Dispatch Dates page whenever you see it displayed either in the menu bar at the top of the page or in the dropdown "hamburger" menu icon: ☰
Covid-19 epidemic - please allow extra time as many countries are not receiving mail or have additional restrictions regarding sorting and delivery in each destination.
The postage pricing table is visible on each and every page throughout our site.

Unfortunately, for postage to China, India and Russia/Russian Federation, we must make a charge for Registered Mail on all items due to our experience of unreliable postal services in these regions. (The postage rate for these destinations will be displayed in the Checkout before you make your payment).


Orders are dispatched Monday to Friday only.
RETURNS POLICY

If there is anything wrong or you are unhappy with your item/s upon receipt, we request you

Contact Us

immediately using any of the options provided in the online form.


To obtain a full refund the items it is in your own interest to return the package by a tracked method (Registered/Signed For) mail service.

If there was damage caused to the item/s during transit, please kindly provide us with a photo of the damage to the item/s and also of the outer packaging in case of a claim against the carrier or postal service.

Please wait for our reply before taking any further action. We aim respond to all enquiries within 24 hours.

Faulty, or incorrect items will be refunded in full or replaced. Always contact us first, before returning a faulty item.

If you simply change your mind and no longer want your order after you have received it, you must inform us in writing and await our instructions.
You will always be requested to return unwanted item/s by a Registered/Signed For mail service which can be verified by EMS Track/Trace website if you wish to receive a full refund.
Items must be returned within 14 days of you notifying us in writing that you wish to cancel the order.

If there are any problems with your order, or if you have difficulty in placing an order, please contact us either by

email

or by using any of the methods from the

Contact Us

page. We are happy to help at any time!
For your own peace of mind, please read the

Customer Feedback Comments

from some of our satisfied collectors from Cyprus Stamps website and online store.

PRIVACY INFORMATION
We do not have access to your payment details at any time during your purchase, only your name, address and email address is provided to us by Stripe or

PayPal

in order for us to dispatch the order to you.
Customer Privacy is of paramount importance to us and we can assure you that

we will not disclose your name or address to third parties or other companies.

Data Protection, Security & Cookies: for more information on cookies and how they are used at Cyprus Stamps please click

here

or if you're browsing on a desktop of laptop, you can use the link at the bottom of the left hand column on any page of this website.