Cyprus Stamps News
Facebook Messenger now runs side by side with Cyprus Stamps website!
(July 23, 2019)
---
Did you know you can now chat to us directly from our website via Facebook Messenger if you already have a facebook account?

UPDATE: We've removed this application for now as the Chat pop up box keeps appearing on all pages and this is not what we want to happen as it will hamper our customer browsing experience.
It will only return when it gets fixed!
You will see the pop up appear automatically when you first visit Cyprus Stamps website.

Note: you can close the pop up with the X at the top right and the Messenger logo / icon will stay visible at the bottom right of your screen in case you need to use it. (See the screenshot example for the facebook logo / icon here below).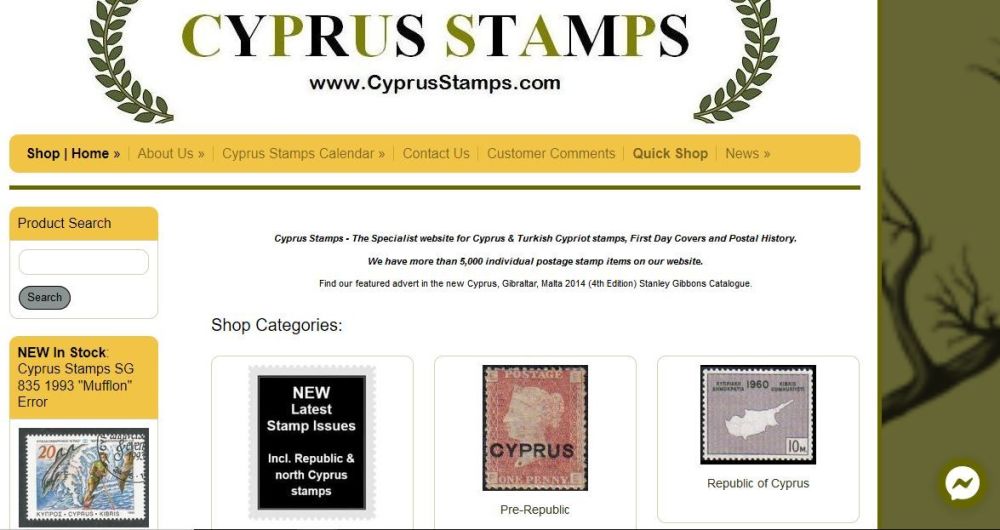 If you have a facebook account, you will be invited to Login in order to use the message application....

Please type and send your message, which we will either respond to if we're online or when we're next available.

Alternatively, if your question is in depth, or long and complicated - please head to our Contact Us page and send us an email.
Don't forget to Follow us at Cyprus Stamps using your Facebook, Twitter or Pintrest account! Just scroll to the bottom of the page and click the relevant icon. Thank you!