ATM Vending Machine Labels - Cyprus Stamps Online Shop
livepages::jquery();?>
Cyprus ATM Vending Machine Labels "stamps" can be found in only one machine in each of the main cities. The current machines are numbered as follows: 003 - Nicosia, 004 - Famagusta, 005 - Limassol, 006 - Paphos and 007 - Larnaca.

Of course, these are not stamps as such but pre-gummed, self adhesive labels and highly collectible.

Our favourites so far are the 2010 Mouflon labels.


Cyprus ATM Vending Machines
1989 - First FRAMA Issues.
Cyprus Post Office, the postal administration of this Mediterranean resort island, became interested in the benefits of automatic distributors of variable value stamps or ATMs, and in 1989 purchased and installed 2 vending machines, type FE 2510, from the Swiss company Frama. One distributor, number 001, was installed in the capital, Nicosia, and the other, number 002, in Limassol.

The ATM design printing came in different shades of pink-violet, and the distributors had the design on fixed print head plus 4 wheels of digits for the face value.

The first day of issue of the only Frama design was May 29th 1989. The gummed paper has a background security design depicting the Kyrenia, a 4th century BC Greek merchant ship. The rolls were manufactured in Switzerland, from a design by George Simonis.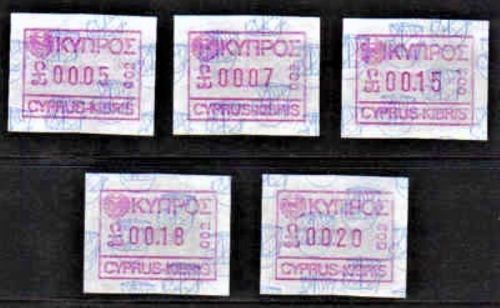 The user could obtain ATMs with any face value between 0.01 and 99.99 CYP, in steps of 0.01 CYP. The Cyprus philatelic service sold 5-value sets with the basic franking values: 0.05, 0.07, 0.15, 0.18 and 0.20 CYP

1999 - New ATM Machines came into force.
After 10 years in service, the Cyprus Post Office decided to replace the older Frama distributors with the new SIMA 1020 vending machines, made by the French company AMIEL ELECTRONIQUE.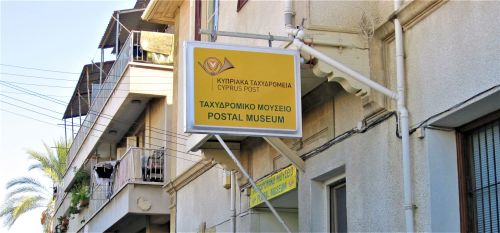 Textual content provided by ateeme.net
Images by Cyprus Stamps - a visit to the Cyprus Postal Museum in November 2011