Cyprus Stamps News
Cyprus stamps 1st July 2012 issue update
(June 18, 2012)
---
This will be a single stamp issue with the official published date of 1st July 2012.
Cyprus Presidency of the Council of the EU 2012.
The Republic of Cyprus assumes for the first time the Presidency of the Council
of the European Union from 1 July until December 31, 2012. The exercise of this
high-level mission, inherent in the EU membership is a unique historical challenge
and an important strategic investment for our country.
Modestly and humbly, albeit ambitiously, Cyprus will be at the center of the
developments in Europe, will work consistently and wisely as a reliable, equal and
responsible partner and contribute with its own colour and special social sensitivity
in the construction of tomorrow's Europe.
With the vision of "a better Europe" that means more for its citizens and the world,
based on the fundamental principle of solidarity and efficiency, the Cyprus
Presidency aims at successfully tackling today's challenges and ensuring the
cohesion of the European structure, so as to meet the aspirations and
expectations of all Europea citizens, generate hope and prospects, strengthen
social cohesion and the quality of the life and highlight Cyprus and the Eu as a whole as a "filoxenos topos", a hospitable place in all sections and for all citizens.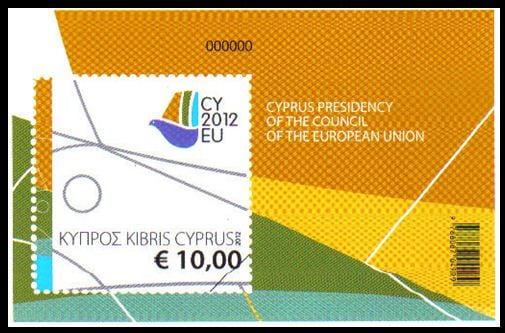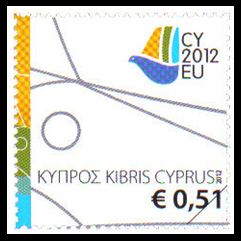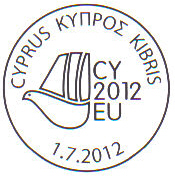 Text: Press and Information Office, Nicosia

Technical Information
Design-Artwork: Partners Consortium, Nicosia.
Size of stamps: 38 x 38 mm
Sheet layout: Sheets of 8 stamps
Size of minisheet: 55 x 85 mm with 1 perforated stamp 38 x 38 mm
Quantities:
€0,51: 50000
€10,00: 20000
FDCs: 7000 of each cover
Printing method: Litho-Offset on unwatermarked paper
Printer: Giesecke & Devrient Matsoukis S.A., Greece
For more details as they appear please keep an eye on our Cyprus Stamps Issues Calendar.
Pre-orders are now available in the Latest Stamp Issue category.