Religious Icons
Posted on
An interesting website I've come across recently which has some bearing on items which can be found on Cyprus Stamps website relating to religious icons.
You may find this website of interest "Lewis & Lewis Statue Restorers & Liturgical Artists" based in North West UK.
Check out their Icon Paintings page, the work done by Jeanette Lewis is fabulous.
And if you want to see some fantastic icons in one of Cyprus' famous monasteries, go and take a look at Kykkos Monastery near Pedoulas in the Troodos mountains.
This photo below was taken on 3 October 2004 when we took our two friends who were on holiday from UK (Pauline & Susan) for a special tour of Troodos. By "special" I mean getting there was easy but we didn't fancy all of the winding roads back towards Troodos Square so we took the short cut following the river bed down towards Ayios Nikolaos. It was a bit of a hair rasing trip and we're glad we were in our double cabin rather than my saloon car otherwise I don't think we would have made it back!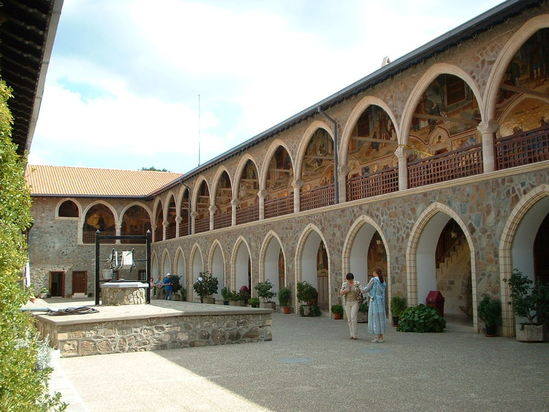 My photo can also be found on the Dutch Cypriot Cyprus Chamber of Commerce website listing some of the most beautiful villages of Cyprus.