Cyprus Geology seems popular just now.
Posted on
So, it may surprise you that Cyprus Stamps website also has another sideline in Cyprus Geology!
Well, why not? We're situated in such a fabulous spot within an hours drive to the Troodos mountains and a magnificent natural phenomena referred to as the Troodos Ophiolite sequence.
Any geologist worth their salt will be aware of the force of nature that crunched the seabed pushing it up towards the top of the Troodos massif. We have a smashing little book that's very easy to pop in a pocket written by Dr. Ron Dutton called "Troodos from Sea to Summit". It contains 79 pages with black and white hand drawn illustrations.
This from the Introduction:
"Stand anywhere on the higher slopes of Troodos and the rocks under your feet are extra special. In the first place, although they are now some 1900m above sea level, ninety million years ago they were molten material deep under the floor of an ancient ocean. Moreover their birthplace was way to the south of present day Cyprus, probably in the region of what is now the Red Sea. Such a geographic reshuffle might be hard to believe but Mother Nature can accomplish astonishing feats in 90 million years, and this one, her relocation of Troodos, is implied in the book's title "From Sea to Summit"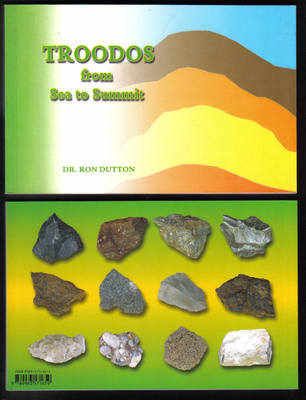 Above - front and back covers.
Below - one of the illustrations.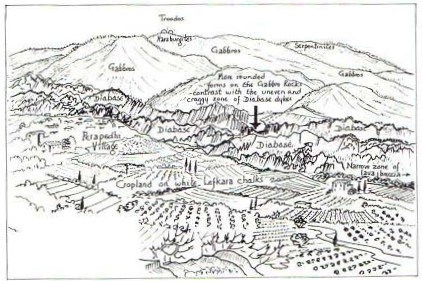 Team it up with our boxed collection of 15 samples from the Cyprus ophiolite sequence and it make a fabulous package for those geologists who cannot readily make the trip to Cyprus to investigate for themselves. Or, if you know someone who is interested in geology - why not treat them as a gift?
From time to time, you will also find some individual rock samples such as pillow lava (upper and lower), dunite, gabbro and serpentinite. Keep an eye on our Cyprus Geology & Troodos Ophiolite items section.